President Biden and his top agency heads have traveled to battleground states in recent weeks on what are billed as official government visits.
Many of Biden's recent official events have featured presidential speeches touting his achievements, like infrastructure, which benefits voters across the country. And he often fundraised with Democrats afterward. Meanwhile, the heads of his agencies have traveled on their own to states with crucial swing elections. Much of this travel is paid for by taxpayers.
DEMS WORRIED ABOUT CRUCIAL MIDTERM PICKUPS AFTER DSCC, SENATE MAJORITY PAC'S LACK OF INVOLVEMENT IN KEY RACES
Biden's trip to Pennsylvania Thursday is the latest example of this political crossover. The president traveled to Pittsburgh to deliver a speech on infrastructure, then left for Philadelphia for a reception with Democratic U.S. Senate candidate John Fetterman, who faces a tight race against Republican Mehmet Oz.
The White House told Fox News Digital that each aspect of the trip is funded separately. 
Transportation Secretary Pete Buttigieg has traveled to swing states such as Nevada, Ohio, Florida, Minnesota, and Pennsylvania, all of which feature competitive Senate races, to tout the infrastructure law passed last year and its ongoing enactment. 
This tour comes as the former mayor of South Bend has reportedly emerged as a key fundraiser for the Democratic Party ahead of the midterms. Political operatives said demand for Buttiegieg at campaign events surpasses Vice President Kamala Harris, whose approval ratings continue to sit below those of Biden. He headlined the Democratic Party of New Hampshire's fall dinner, as well as an event for Sen. Catherine Cortez Masto, D.-Nev., who is seen as the most vulnerable Democrat in the Senate.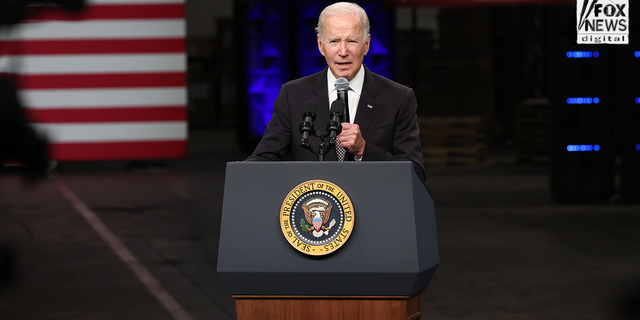 Buttigieg is not the only Biden official traveling to battleground states through government trips. Secretary of Agriculture Tom Vilsack made visits to Colorado, Pennsylvania, Wisconsin, and Maine since September. Department of Interior Secretary Deb Haaland traveled to Colorado in October for an official trip, then attended a fundraiser for Democrats in Minnesota later that week. Haaland has made other official visits to Nevada, Pennsylvania, and Georgia.
Other agency heads, such as Labor Secretary Marty Walsh and Housing and Urban Development Secretary Marcia Fudge, have traveled in recent weeks to tout Biden's policy wins. 
All of Biden's recent predecessors, Republican and Democrat, have finessed their and Cabinet officials' schedules in a similar manner.
Biden's West Coast trip in October placed official events in the same region, a cross-continent flight from Washington, though not always the same state as political gatherings. The president flew to Colorado on Oct. 12 to deliver a speech on conservation efforts, then flew to Los Angeles, where he had an event with the Democratic Congressional Campaign Committee the next day. This back and forth continued on October 14 when he delivered a speech on the economy in Orange County and then flew to Oregon, where he attended an event with Democrats in the state later that night. The next day, he delivered a speech in Oregon on infrastructure, then attended a reception for Democratic governor candidate Tina Kotek, who is in a historically tight race in the largely blue state. 
Biden on Oct. 6 spoke at an IBM facility in Poughkeepsie, New York. Tagging along were two New York House Democrats in tight races, Reps. Sean Patrick Maloney and Pat Ryan.
FETTERMAN'S MEDICAL REPORT WRITTEN BY DOCTOR WHO CONTRIBUTED MORE THAN $1,300 TO HIS CAMPAIGN: PUBLIC RECORDS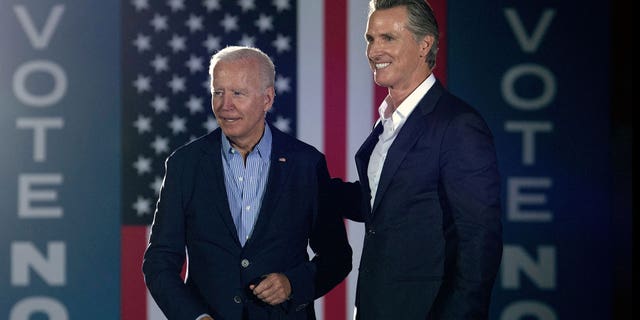 On September 14 in Detroit, Biden flew to deliver a speech on electric vehicles, which was followed by a reception with the Democratic Congressional Campaign Committee the same day. Two days prior to that, Biden flew to Boston, where he delivered a speech on infrastructure at Logan National Airport, then headed to a Democratic National Committee event at a donor's house in the city.  
CLICK HERE TO GET THE FOX NEWS APP
Biden flew to Milwaukee to deliver a Labor Day speech along with Labor Secretary Marty Walsh, then traveled with him for an event with the United Steelworkers in Pennsylvania the same day. Wisconsin, like Pennsylvania, features a tight Senate race, in this case between Republican Sen. Ron Johnson and Democrat Mandela Barnes.
The Cabinet agencies mentioned in this piece did respond to a request for comment.