With labor shortages leaving a wealth of fruit to rot on trees, farmers around the globe are seeing a glimmer of hope on the horizon as AI-driven robots fly to their rescue. These tech marvels are combating an escalating labor shortage that's leaving vast quantities of fruit to decay on trees.
CLICK TO GET KURT'S FREE CYBERGUY NEWSLETTER WITH SECURITY ALERTS, QUICK TIPS, TECH REVIEWS AND EASY HOW-TO'S
Developed by the Israeli startup Tevel Aerobotics Technologies, these bots hover next to fruit trees, effortlessly pick the ripest fruits with suction arms, and carefully deposit them in a collection bin.
Like diligent honeybees, they're tethered to a platform that provides continuous power, enabling them to work day and night. No complaints, no visas, no lunch breaks, and most certainly, no talking back.
The future of fruit picking
These robots aren't just tireless pickers; they're more like flying geniuses. Outfitted with cameras, they precisely assess each fruit's size and color, ensuring they only pick the perfectly ripe specimens.
They work smart and not just hard, providing farmers with real-time updates on the harvesting progress, estimated time to completion, quantity picked, and costs.
These aren't your regular farmhands; they're farmers' high-tech sidekicks, always ready with crucial data to enhance productivity and efficiency.
From TV inspiration to a global solution
The brainchild of Yaniv Maor, the company's founder and CEO, Tevel was born out of a TV documentary based on the demanding work that fruit picking entails.
Fast-forward a few years, and the startup now boasts $30 million in funding and 60 employees. Tevel's innovative flying autonomous robots (FARs) offer a significant advantage over other robotic fruit-picking solutions.
Other existing solutions are largely ground-based machines that can't match the agility, efficiency, or cost-effectiveness of Tevel's FARs.
How flying robots are revolutionizing agriculture worldwide
Their FARs are making their mark from Israel's Golan Heights to California's fruit-laden valleys, harvesting Asian pears, apples, peaches, and nectarines.
And they're not stopping there. Ambitions are as high as their robots fly, with expansion plans to Spain, the UK, Australia, New Zealand, and parts of Asia.
A plan to train robots to pick avocados and mangos
As part of their future expansion plans, Tevel is also aiming to train the robots to pick avocados and mangos – fruits that require cutting from the stem and thus presenting a new set of challenges.
Although these robots can't match the picking speed of a human just yet, their 24/7 workability is a definite edge. More importantly, they represent a promising solution to the labor shortage, not a replacement for human labor.
THAT'S NOT A HUMAN TALKING TO YOU IN THE FAST FOOD DRIVE-THRU
When machines take the stage: a look at the changing world of work
It's hard to ignore the ripples AI and robotics are making across various industries. Tevel's flying fruit-picking robots are just the latest in a growing lineup of mechanical marvels stepping into roles traditionally held by humans.
Take a step into Hollywood, and we may soon be asking, "Will AI replace actors too?" After all, digital humans and deepfake technology are advancing rapidly, making it entirely conceivable that future blockbuster films might star AI-generated actors who never step foot on a set.
Venture into the food industry, and you'll find robots rolling out pizzas at a pace no human chef could match. At fast-food chain Chipotle, a robot affectionately named 'Chippy' is in charge of dishing out perfectly portioned dollops of guacamole, showing that even in the culinary world, automation is adding an extra pinch of efficiency.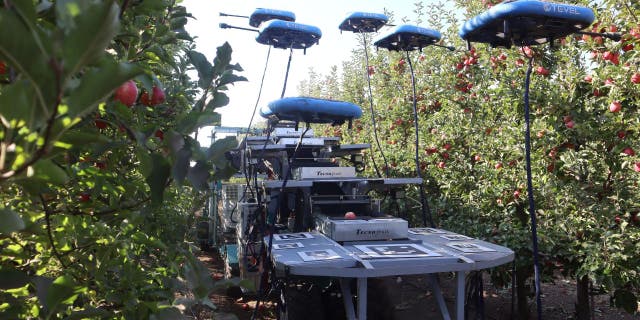 ARE 3-D PRINTED CAKES THE FUTURE OF BAKING?
Kurt's key takeaways
As we marvel at the pace of change, we must also pause to reflect on its implications. Are we heading towards a future where jobs are mostly a relic of the past, and robots and AI systems handle everything from farming to filmmaking? Or are we moving into a more collaborative future, where humans and technology work hand-in-hand, each playing to their unique strengths?
These changes are coming, and they're coming fast. They challenge us to rethink what work means, how we value human labor, and how we navigate a world increasingly shared with machines.
CLICK HERE TO GET THE FOX NEWS APP
Are robots and AI tools a threat to the workforce or an opportunity for us to reshape our world for the better? How do you see these developments shaping your industry, your job, or your life? Let us know by writing us at Cyberguy.com/Contact
For more of my security alerts, subscribe to my free CyberGuy Report Newsletter by heading to Cyberguy.com/Newsletter
Copyright 2023 CyberGuy.com.  All rights reserved.