Atlanta Hawks star Dejounte Murray may have gotten himself into a little bit of trouble at the end of the team's Game 4 loss to the Boston Celtics on Sunday.
A video posted to social media appeared to show Murray making contact with referee Gediminas Petraitis as he walked off the floor. Murray also appeared to yell something back toward Petraitis as he walked off the floor.
CLICK HERE FOR MORE SPORTS COVERAGE ON FOXNEWS.COM
The NBA is reportedly investigating the interaction. It is unclear what triggered Murray to get into the face of Petraitis.
The NBA will likely make a decision on whether Murray can play Game 5 against the Celtics at some point before tip-off. Game 5 is set for Tuesday night.
ANTHONY EDWARDS HELPS T'WOLVES AVOID ELIMINATION IN THRILLING WIN OVER NUGGETS IN GAME 4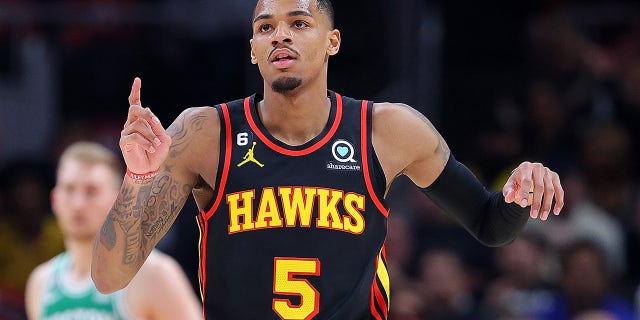 Murray had 23 points, nine rebounds and six assists in 40 minutes. Atlanta lost 129-121 and went down 3-1 in the series. Through four games, Murray is averaging 25.3 points, 7.3 rebounds and 5.8 assists and 2.3 steals per game.
He was not made available to speak with the media after the game.
The box score appeared to be even in foul category. Atlanta was called for 24 fouls and Boston was called for 23 fouls. The Hawks shot 87.5% from the free-throw line and the Celtics were 84%.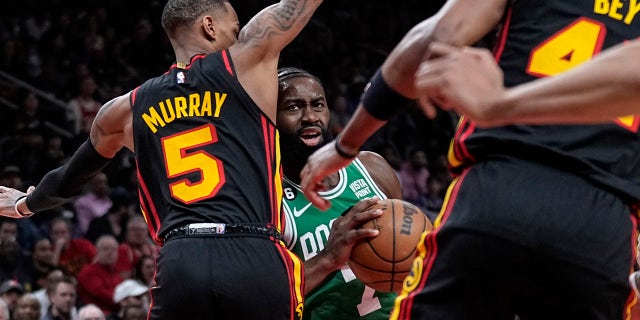 CLICK HERE TO GET THE FOX NEWS APP
Atlanta is on the brink of being eliminated from the first round of the playoffs for the second straight season. The Hawks made it to the Eastern Conference Finals in 2021.