Michael J. Fox looks incredible in new photos shared over the weekend of the beloved actor.
Fox, along with "Back to the Future" costars Christoper Lloyd, Lea Thompson and Tom Wison, reunited at the FanExpo fan convention on Saturday, and they all took to Instagram to share photos of the special occasion.
Thompson, who played the role of Lorraine, the mother of Fox's Marty McFly, posted a number of photos and videos of the cast looking very happy to be spending time together.
"Wow honestly had the best time today with my #bttf family," she captioned her post. She tagged all of them, as well as a number of other friends, and added, "So many fun fan moments too and a llama."
MICHAEL J. FOX ACCEPTS HONORARY OSCAR AWARD FOR PARKINSON'S DISEASE ADVOCACY AND RESEARCH
It seems like Thompson was the designated photographer of the event – Fox shared a photo of hers and added it to his Instagram Story.
"I love being at these FanExpo events and seeing some of my favorite people like Lea, Tom, Chris, and all you #bttf heads," he wrote. "Heavy."
Wilson, who played the villainous Biff, seems to have taken the selfie of all four cast members together, and when he posted it on his own page he simply wrote "Okay, so this happened. 2023."
The first "Back to the Future" movie was released in 1985, and it's long since become a classic.
It tells the story of Marty McFly, one of Fox's most beloved characters, traveling through time with the help of his friend, scientist Dr. Emmett Brown, played by Lloyd, and the two sequels, released in 1989 and 1990, tell similar stories.
Fox, Lloyd, Thompson and Wilson appear in all three movies.
CLICK HERE TO SIGN UP FOR THE ENTERTAINMENT NEWSLETTER
Last month, Fox spoke about the friendship he shares with Lloyd, saying "Chris is a great guy. He's very enigmatic."
"It took me a few films to get to know him. On 'Back to the Future Part III' we connected in a way we hadn't on the other films," he added. "I came to see how much he loved acting. I never got that before."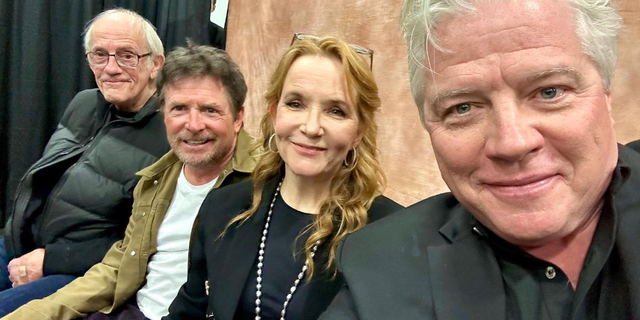 He added, "To sit down and talk about acting and talk about Shakespeare and 'King Lear' … This guy can play King Lear! People don't expect that of him. He's full of surprises."
CLICK HERE TO GET THE FOX NEWS APP
Fox was diagnosed with Parkinson's disease in 1991, and in 2020 he announced that because of the progression of the disease, he'd be retiring from acting.