The Miss Universe organization is speaking out on rigging allegations after Miss USA R'Bonney Gabriel's win last Saturday.
The organization dismissed claims made by social media users that its new owner fixed the competition in order to crown Gabriel, who became the first Filipino American to be named Miss Universe.
"Saturday's competition was the first time a trans woman addressed fans as the owner of Miss Universe," the organization wrote in a statement obtained by Fox News Digital about transgender Thai businesswoman and JKN Global Group CEO Anne Jakrajutatip.
"It was also the first time a Filipina American took the crown," the statement continued. "The false rigging allegations are absurd and distract from the incredible milestones our organization and the delegates experienced this weekend."
"Instead of focusing on unfounded statements, we will continue to shine a light on global women's empowerment, inclusiveness, diversity, and transformational leadership," the organization concluded.
MISS USA R'BONNEY GABRIEL WINS MISS UNIVERSE COMPETITION
While Miss Universe 2022 was airing, fans on Twitter alleged that the competition was rigged, pointing out that JKN Global Group also owns the Miss USA pageant. Gabriel became the first Filipino America to be crowned Miss USA at the competition last October. She was named Miss Texas USA in December 2021. 
Online critics also claimed that the pageant was manipulated to favor the American contestant because it was held in the United States. The competition took place at the Ernest N. Morial Convention Center in New Orleans, Louisiana.
The model, fashion designer and sewing instructor was the first American to win the pageant since Olivia Culpo was crowned Miss Universe in 2012. The first runner-up was Miss Venezuela Amanda Dudamel and Miss Dominican Republic, Andreina Martinez, was the second runner-up.
Gabriel's victory at the Miss USA pageant also sparked controversy with many of the 28-year-old Houston native's fellow contestants stating that they believed she was the beneficiary of "favoritism." Many contestants walked off the stage after Gabriel's win without congratulating her, breaking with beauty pageant tradition.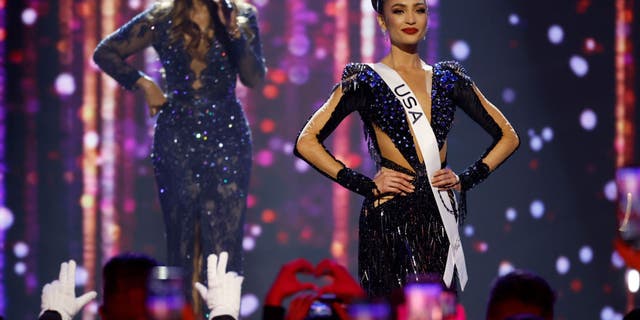 "A lot of the girls felt like it was the organization's plan from the beginning for R'Bonney to win, no matter who else was competing," Miss Missouri, Mikala McGhee, told Insider at the time.
Though McGhee was one of the contestants who walked off the stage, she said that move wasn't meant to "knock" Gabriel but rather "to send a statement that we all had an idea of what was really going on behind the scenes."
"We felt disrespected and paraded around for a show," McGhee added.
More than a dozen contestants alleged that the competition was rigged, citing instances in which Gabriel appeared to receive "preferential treatment" and noting conflicts of interest. 
The Miss Universe organization suspended then-head of Miss USA Crystal Stewart and her company Miss Brand Corp, which ran the pageant, pending an internal investigation.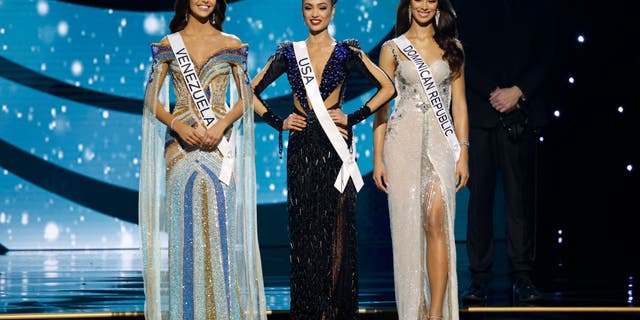 CLICK HERE TO SIGN UP FOR THE ENTERTAINMENT NEWSLETTER
Miss Montana, Heather Lee O'Keefe, told NBC News that Gabriel "was allowed to do different walking patterns on stage, when we were all told to strictly follow the walking pattern that we were given to by the choreographer."
O'Keefe continued, "She broke that rule, and they let her do it. Her coaches were allowed to sit in on the rehearsals, and anyone whose coach was outside of the Miss Academy wasn't allowed to be there." 
For her part, Gabriel denied the accusations in an October interview with E! News, telling the outlet that the pageant was "not rigged."
"I would never enter any pageant or any competition that I know I would win," Gabriel said. "I have a lot of integrity."
CLICK HERE TO GET THE FOX NEWS APP