During a "CBS Mornings" interview, New York City Mayor Eric Adams pleaded with President Joe Biden to declare a "state of emergency" to help the city deal with a massive migrant surge.
Adams explained that thousands of new migrants to the city haven't been able to find work due to federal laws that require a time period that asylum seekers must wait before seeking jobs. 
This means nearly 100,000 migrants in the city could be relying on the city government's aid rather than being able to support themselves for "years" to come.
FORMER NY DEM GOVERNOR WARNS NYC MIGRANT CRISIS AT 'TIPPING POINT': 'SLEEP ON THE STREETS'
CBS prefaced its sit-down with Adams by noting that the mayor's office has recorded providing "'shelter and care' for over 100,000 asylum seekers" since last spring. The segment also mentioned a new facility in Randall's Island, New York which provides housing, food and other basic amenities for "up to 3000 people."
CBS News correspondent Jericka Duncan asked Adams whether he believes that the city's new shelter represents "a sign of progress, or does this speak to the humanitarian crisis your city is facing?"
Adams admitted it was a bad sign, saying, "This is not a sign of progress, this is a sign of a crisis, the greatest – I believe – humanitarian crisis this city has ever witnessed."
Duncan confronted the mayor over claims that he and his team are not doing enough for migrants and that conditions are poor for them in these facilities.
Adams replied, saying, "When we hear about one of our service providers not meeting our standards, we immediately get in. And we need to be clear that I'm on the ground. I'm not detached from this. I walk through surprise visits to see the quality of service."
When asked how often he makes these visits, Adams said, "Very often. I could give you – once a week, I am looking at one of the locations to make sure we're reaching the standard."
NYC ISSUES POSTERS TELLING MIGRANTS TO 'CONSIDER ANOTHER CITY,' WARNS OF SKY-HIGH PRICES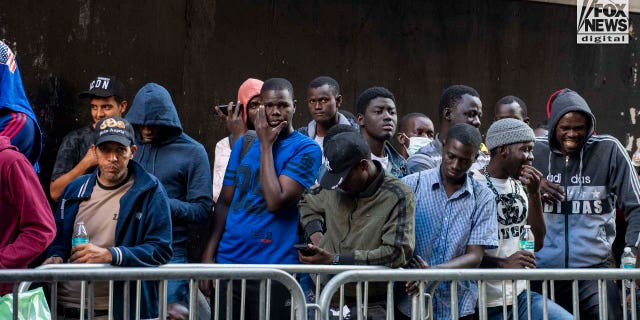 Duncan reported that New York City has sought help from the state, though she mentioned criticism from the governor's office for Adams, alleging that he "didn't share information promptly," that he "did not implement programs in a timely manner," or that the mayor "turned away opportunities to house thousands of migrants."
After hearing this from Duncan, Adams pushed back on the governor's claims, saying that "some" of the spaces the state provided the city to house migrants "were not suitable to build in."
Adams then mentioned the major problem of these migrants not being able to find work thanks to federal law. Duncan provided context, saying, "Legally, migrants must wait six months after they've applied for asylum before they are eligible for work permits. And due to backlogs, the wait could take years."
When asked what could be done about that problem, Adams appealed to the federal government and Biden. He said, "We gonna do the duality of calling for, rightfully, the resources for the city. Even something simple as calling a state of emergency. If the president does that, it allows us to get resources."
Invited by Duncan to address Biden directly, Adams stated, "The precursor to sleep, to enjoy the American dream, is the right to work. The right to work. Let them work."
CLICK HERE TO GET THE FOX NEWS APP
For more Culture, Media, Education, Opinion and channel coverage, visit foxnews.com/media