A group of U.S. Navy sailors helped save the day by assisting passengers who were stranded on a ferry in Washington state Saturday.
A four-engine jumbo class ferry named the Walla Walla ran aground on Saturday afternoon near Bainbridge Island, west of Seattle. It departed from Bremerton, Washington earlier.
Officials believe a generator on the ship failed, shutting off the power and causing an earthquake-like sensation to the passengers.
"When we impacted it felt like an earthquake. We shuffled around, it moved everyone around and everyone was confused" passenger Kyle Bulger recalled to FOX 13 Seattle. 
TRAIN CARRYING HAZARDOUS MATERIALS DERAILS IN RURAL MAINE, RESIDENTS WARNED TO 'STAY CLEAR'
Sailor Jakob Stroud told KOMO that many U.S. service members stationed at Naval Base Kitsap in Bremerton were aboard during the time. Dozens of Navy personnel were reportedly headed to the Submarine Ball in Seattle on Sunday.
Stroud said that several service members helped passengers on the stranded vessel.
BIDEN UNVEILS TOUGHEST-EVER EMISSIONS RULES IN BID TO FORCE ELECTRIC VEHICLE PURCHASES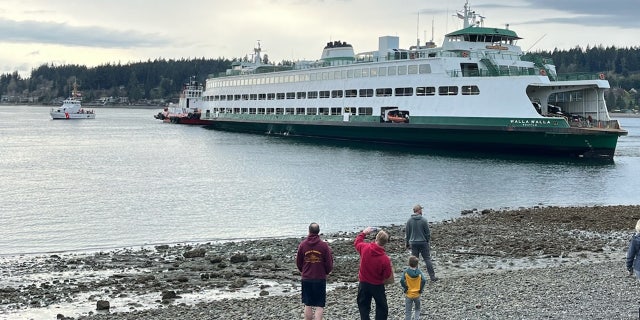 "It was just second nature at that point. It was a different boat with different people," Stroud explained to KOMO. "We all kind of worked together and helped everyone do life jackets and guide them were they needed to go."
The U.S. Coast Guard Pacific Northwest confirmed that all 596 passengers and 15 crew members on board were rescued by Kitsap Fast Ferry vessels without injuries.
There were also 175 cars stuck on the ship, which were all successfully removed by Sunday. Stroud said he waited 18 hours to get his car back.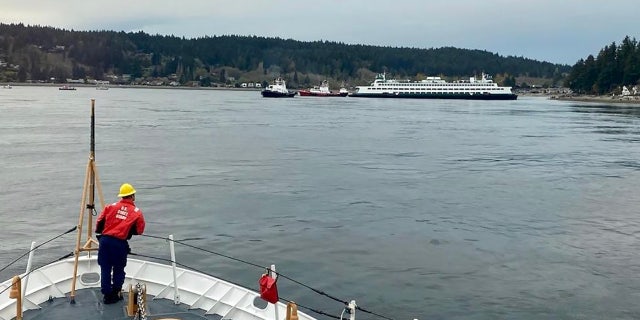 Fox News' Stephen Sorace contributed to this report.