As kids begin to go back to school, Senate Republicans are handing the Democrats' signature Inflation Reduction Act (IRA) its first report card.
Ahead of Wednesday's White House celebration of the IRA's first anniversary, Republicans on the Senate Environment and Public Works (EPW) Committee gave the law a failing grade.
Senate EPW Committee ranking member Shelley Moore Capito, R-W.V., told Fox News Digital that as "Democrats celebrate the one-year anniversary of their partisan climate and regulatory spending spree, the reality is the results have been devastating for the American people."
BIDEN ADMITS INFLATION REDUCTION ACT HAD 'LESS TO DO WITH REDUCING INFLATION' THAN HE ORIGINALLY SAID
"The Inflation Reduction Act poured trillions of taxpayer dollars into unaccountable programs that have done little to actually reduce emissions," Capito said. "Americans should know that through this legislation they've subsidized the Democrats' first iteration of the Green New Deal, all while they continue to pay sky-high prices to fill up their tanks and power their homes."
"It's no surprise the Inflation Reduction Act, which was written in secret and rushed through Congress on a party-line vote, is extremely unpopular in energy-producing states like West Virginia, and this report outlines exactly why," she added.
In the report card, the EPW Republicans wrote that the "IRA gives $50 billion to agencies in the Committee's jurisdiction to go on a reckless spending spree" and contrasted President Biden's claim that the bill is the "most aggressive action ever… in confronting the climate crisis" to what the administration is saying on how the law will reduce carbon emissions.
"Fact: the administration has not broken down whether and how much each IRA program is anticipated to reduce emissions," the report card reads.
"Instead, only general claims about the effects of the law as a whole have been presented," they continued, citing the Department of Energy's August 2022 IRA emissions analysis.
The report highlighted several "example IRA programs," including a $27 billion "Greenhouse Gas Reduction Fund," $5 billion in "Climate Pollution Reduction Grants," $3 billion in "Environmental and Climate Justice Block Grants," and other initiatives totaling $41.5 billion in funding for the Environmental Protection Agency (EPA) via the law.
"The IRA harms the economy, wastes taxpayer money," the report reads, adding that Democrats now "want a sequel" to the hefty spending bill.
"Democrats plan to push for an IRA 2.0 with an even greater scope, which could lead to trillions more in wasteful spending if they're in charge again," the report concludes.
Treasury Department spokesperson Michael Kikukawa told Fox News Digital that the "Inflation Reduction Act is a transformative law that in just one year is leading a manufacturing boom that Republicans promised but failed to deliver, creating good-paying union jobs, lowering health care and energy costs, and putting America on track to lead the world on clean energy."
"House Republicans seem to be ignoring Administration reports that show the Inflation Reduction Act puts us on a path to cut emissions in half and save families up to $38 billion on their electricity bills by 2030," Kikukawa said.
"Now, Congressional Republicans who were not able to deliver on manufacturing and who deny the reality of climate change—which is already worsening natural disasters—want to undo the progress made by the Inflation Reduction Act and continue outsourcing good jobs and failing Americans," he added.
Biden admitted Thursday that Democrats' signature Inflation Reduction Act wasn't as much about actually reducing the then-record-high inflation facing the nation as he originally touted to the American people.
"I wish I hadn't called it that. It has less to do with reducing inflation than it does providing for alternatives that generate economic growth," Biden said during an appearance at a campaign fundraiser in Park City, Utah according to the press pool report.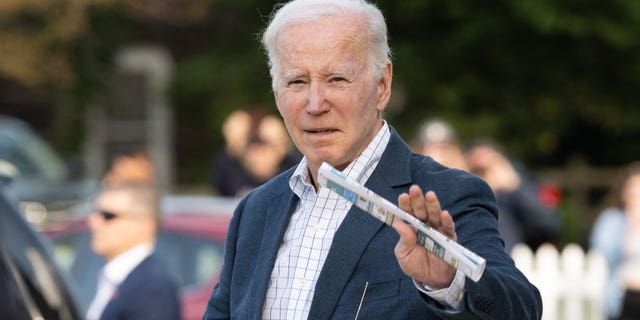 "And so, we're now in a situation where if you take a look at what we're doing in the Inflation Reduction Act, we're literally reducing the cost of people being able to make their — meet their basic needs," Biden said.
"Even when there is inflation there is a way to provide breathing room," he added, citing negotiating medical prices as one example.
Biden's comments are a sharp turn from what he said in July 2022 ahead of the Inflation Reduction Act's passage through Congress on a party line vote.
CLICK HERE TO GET THE FOX NEWS APP
"The Inflation Reduction Act is the strongest bill you can pass. It will lower inflation, cut the deficit, reduce health care costs, tackle the climate crisis, and promote energy security," he said.
At the time, as the country faced an inflation rate near the highest level in 40 years, multiple analyzes said the bill would not reduce inflation. The Congressional Budget Office said the bill will have "a negligible effect" on inflation in 2022, and in 2023 its impact would range between reducing inflation by 0.1% and increasing it by 0.1%.
Fox News Digital's Brandon Gillespie contributed reporting.