Sean Penn is doubling down on his call for the United States to supply Ukraine with modern fighter jets amid the country's war against Russia.
The 62-year-old actor, who first pressed the White House on Ukraine's need for jets last March, said President Joe Biden's surprise trip to Kyiv this week to mark the one-year anniversary of Russia's invasion was "extremely encouraging." However, he stressed that the U.S. continue sending military aid, including modern aircraft, to the war-torn nation.
"There's no scenario where Ukraine loses this battle," the two-time Academy Award winner said told Politico in an interview that was published on Friday.
He continued, "There's a scenario where territory is taken, and Putin buys his way into fighting insurgents throughout a broken infrastructure of a broken country."
SEAN PENN SPEAKS OUT ABOUT TIME IN UKRAINE, SAYS ZELENSKYY 'WILL WIN, BUT AT WHAT COST'
"But the Ukrainians are going to fight till the last drop of blood. And that drop of blood will be on our hands if we don't faithfully equip them."
Two weeks after Russia invaded Ukraine, the "Milk" star took to Twitter to urge the U.S. and Polish governments to provide Ukraine with fighter jets.
"I JUST got off a call with President Zelensky's Chief of staff, Andriy Yermak," he wrote on Mar. 9. "Somewhere in the bureaucratic chain between our White House & the Polish Gov., the desperately NEEDED jets are not yet delivered to Ukraine. Public outcry may find the bottleneck."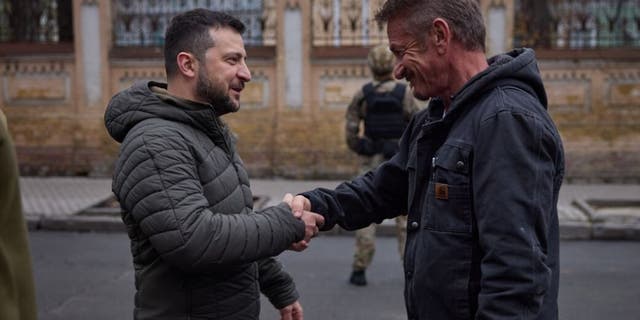 Poland had offered to give its entire fleet of MiG-29 fighter jets to the U.S. in exchange for a chance to buy American F-16s as part of a deal to bolster the Ukrainian air force while upgrading their own with NATO aircraft.
However, the Pentagon announced later that it would not support Poland's proposal, referring to the move as "high-risk" for escalating tensions with Russia.
The following month, Penn called for buyers from the private sector to spend $300 million to buy two squadrons of U.S.-made F-15 or F-16 fighter jets, adding, "12 aircraft with better tech than Russian MiGs or SU's [Sukhoi]." 
"One billionaire could end this war in Ukraine," he wrote. "Of course there are add-ons in arming & maintaining creative runways, etc, but seems worth a think."
The actor has since deleted his Twitter account.
Penn has reiterated his calls for Ukraine to be supplied with more advanced aircraft during media interviews and in private conversations with members of Congress, Politico reported.
The "Mystic River" actor explained the fighter jets that the Ukrainians are currently using are insufficient to combat Russia's more advanced aircraft. 
"The Ukrainians are flying without guided missile systems," he told Politico. "So, they actually have to get a visual on the Russian MiGs to shoot them down."
He continued, "Whereas the Russian fighter jets can lock in, fire a guided missile from 100 kilometers out, then duck into safe airspace."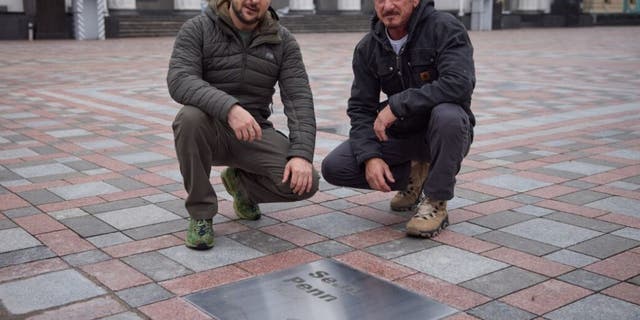 The Biden administration has faced mounting pressure to provide Ukraine with modern fighter jets from both Republican and Democratic lawmakers as well as Ukrainian government officials, including President Volodymyr Zelenskyy.
Last month, Biden told a White House reporter "No" when asked if he planned to send Ukraine F-16 fighter jets.
During his interview with Politico, Penn recalled being in Kyiv when Russia invaded Ukraine on Feb. 24, 2022. He had a meeting with Zelenskyy the night before the invasion in which the president agreed to participate in Penn's documentary about the conflict, "Superpower."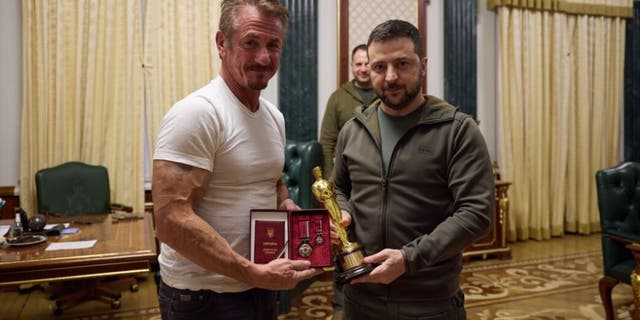 "We went back to our hotel and closed our eyes for about two hours, and all of a sudden, the missiles and rockets were coming in," Penn remembered.
CLICK HERE TO SIGN UP FOR THE ENTERTAINMENT NEWSLETTER
The actor remained in Ukraine for a few days to continue filming after Russia's invasion. According to Politico, he has returned to the country six times, including a November visit when he gave his Oscar statuette to Zelenskyy. His most recent visit took place last week when he screened "Superpower," which premiered on Feb. 17, for Zelenskyy.
Penn told Politico that Zelenskyy was"clearly realistic" about the likelihood that Russia would invade Ukraine during his first meeting with the president on Feb. 23.
However, Penn said that Zelenskyy "could not possibly have known that he would so completely rise to the occasion of the actuality."
"It was immediately clear when he walked into the room on February 24th that we were witnessing the newfound embodiment of an historic courage and leadership," Penn told the outlet. "The resolve was in his eyes; Zelenskyy wasn't going anywhere."
CLICK HERE TO GET THE FOX NEWS APP
Fox News Digital's Lauryn Overhultz and Michael Ruiz contributed to this report.