Democrat California Sen. Dianne Feinstein appeared unaware of her own retirement announcement Tuesday, telling a group of reporters at the Capitol that she hadn't made a decision on her future despite announcing just hours before that she would not be seeking reelection in 2024.
According to multiple reports, a Feinstein staffer quickly notified the senator that a statement had already been made on her retirement, prompting her to say she was unaware the information had been released.
Reporters present for the interaction quickly took to Twitter to report on Feinstein's apparent confusion.
FEINSTEIN RAISES UNDER $600 AS OTHER CALIFORNIA SENATE CANDIDATES JUMP IN
"Asked by reporters about her announcement to resign, [Feinstein] says 'If I haven't made that decision, I haven't released anything.' A staffer then told the senator that a statement had been released. Feinstein responded saying 'I didn't know they put it out,'" one reporter wrote, later clarifying he meant "retire" instead of "resign."
"Feinstein on her retirement: 'I haven't made that decision. I haven't released anything.' Staffer: 'We put out the statement.' Feinstein: 'You put out the statement? I didn't know they put it out,'" another wrote.
DIANNE FEINSTEIN SAYS SHE WON'T STEP DOWN EARLY DESPITE CONCERNING MENTAL HEALTH REPORTS
The second reporter later corrected her reporting by saying that it sounded like Feinstein said, "I should have known they put it out" rather than "I didn't know they put it out.
According to another report from Raw Story, which included an audio clip of Feinstein speaking to a reporter, she wasn't aware that she was retiring at all.
"Oh, no, I'm not announcing anything. I will one day," Feinstein told the outlet in an interview only an hour after her retirement was announced.
This isn't the first instance in which Feinstein's memory and cognitive abilities have been questioned. Last year, a number of her Senate colleagues anonymously expressed concern that her memory was fading and that she no longer had the ability to serve.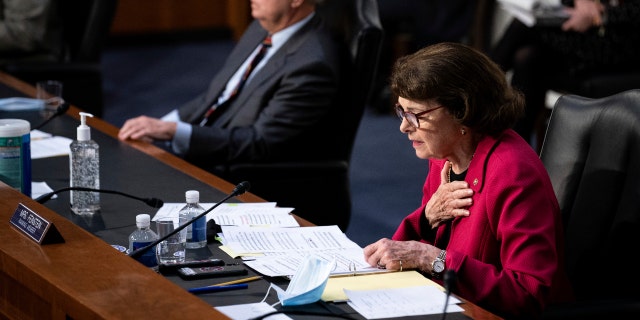 CLICK HERE TO GET THE FOX NEWS APP
Fox News Digital reached out to Feinstein's office for comment and received a statement from a spokesperson attributing the confusion to the timing of the retirement announcement.
"The senator approved it going out today, just confusion on timing. The senator was out of the office for votes, a meeting, lunch and more votes when the announcement was sent," the spokesperson said.