CNN's Jake Tapper implied Tuesday that Kansas City Chiefs offensive coordinator Eric Bieniemy lost out on the position of head coach with another team because the National Football League (NFL) is racist.
Bieniemy, who is Black, helped lead the Chief's offense to victory at the Super Bowl this past weekend. 
"It was the Eagles defensive coach Jonathan Gannon who was just asked to be the head coach of the Arizona Cardinals, passing over, once again, the superbly talented Kansas City Chiefs offensive coordinator, Eric Bieniemy, who helped his team get to three Super Bowls and win two Vince Lombardi trophies just since 2018," the host of "The Lead with Jake Tapper" said.
"Why would you pick Gannon over Bieniemy? Why? Why would any team want Gannon on the left there and not Bieniemy on the right? Hmm," Tapper asked while CNN displayed a picture of Gannon, who is White, and Bieniemy, who is Black.
WOMEN WHO MARRY THEMSELVES CELEBRATED ON VALENTINE'S DAY: 'YOU MAY NOW KISS YOURSELF'
"So, let's just ask the question on the table. Would Eric Bieniemy be a head coach today if he were White?" Tapper asked.
His guest, sports broadcaster Bob Costas, agreed that racism is a problem in the NFL and pointed to a reduced number of Black head coaches as evidence of systemic discrimination in the league.
"I think you would have to conclude that as likely," Costas replied to Tapper's question.
MEDIA STILL IGNORE UNANSWERED QUESTIONS ABOUT SEN. JOHN FETTERMAN'S HEALTH
"But I want to stipulate by saying that not every individual situation necessarily personifies a larger truth, but having said that, Eric Bieniemy has interviewed 15 times with 14 different teams," he continued.
Costas pointed out that while today there are only four Black head coaches, in 2018 the season began with seven.
"It doesn't have to be exact equity. It doesn't have to match up with the number of Black players within the league, but clearly, something is wrong here, systemically," he argued.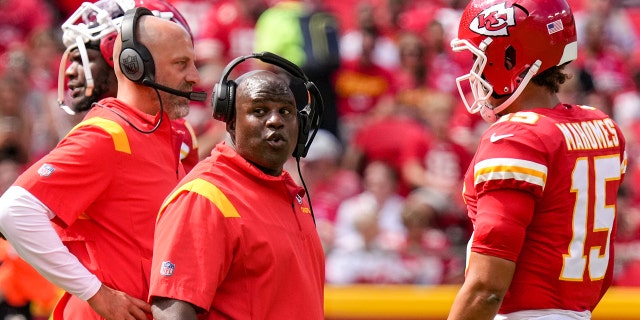 CLICK HERE TO GET THE FOX NEWS APP
Bieniemy himself reacted to the lack of minority head coaches in the NFL in early 2021.
When asked about why he did not get a promotion at the time, he said, "I did not ask to be the poster boy of this particular situation that I have experienced. At the end of the day, the only thing that you want to do is be recognized with all the things that you've accomplished, and for whatever reason that has not happened. That's OK, because the only thing I know what to do is to just go back to work and continue chopping wood."