Florida lawmakers on Friday passed a bill that would allow the state to pick up and relocate migrants from anywhere in the United States, a practice the state employed last year when it took migrants from Texas and dropped them off in Martha's Vineyard, Massachusetts, setting off a firestorm in the process. 
Members of the state House voted 77-34 to approve SB-6B, FOX Tampa reported. The state Senate passed the bill last week.
The legislation would create an Unauthorized Alien Transport Program to relocate migrants if they have been processed by the federal government. The bill is headed to Florida Gov. Ron DeSantis' desk for his expected signature. 
BORDER PATROL APPREHENSIONS OF CHINESE NATIONALS AT SOUTHERN BORDER UP 800%: SOURCE 
The bill came after DeSantis charted flights to fly 49 migrants from San Antonio, Texas to Martha's Vineyard last year. The move drew scorn from Democrats and resulted in legal questions over whether the governor had the authority to move migrants not in his state. 
The bill would set aside $10 million to transport migrants to sanctuary areas. 
"The federal government has not only failed but refused to take any action to deal with the over 200% increase in encounters at the border," said State Sen. Blaise Ingoglia, the bill's sponsor. "In fact, this administration has taken steps to make the problem worse. The state of Florida is not, and never will be, a sanctuary state. It's time for those sanctuary cities to put their money where their mouth is."
Democrats have criticized the bill as political gamesmanship. 
"What we are seeing with most of our Republican colleagues is that they don't really care about accountability," said Miami Rep. Dotie Joseph. "They want to give the governor a carte blanche to do whatever it is that he wants to do, regardless of legality, constitutionality or otherwise."
Republicans have praised efforts to move migrants to sanctuary cities amid record levels of illegal immigration.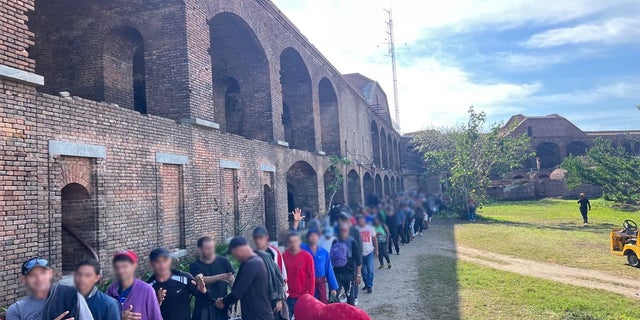 CLICK HERE TO GET THE FOX NEWS APP
Last month, DeSantis activated the National Guard amid a migrant surge in the Florida Keys. At one point, the Coast Guard picked up over 300 migrants at Dry Tortugas National Park, the park is 70 miles west of Key West.
"I think people are sick of having an open border with no rule of law in this country," DeSantis told reporters last week. "We can just sit here and do nothing about it or we can actually stand up and say whatever tools we have at our disposal, we are going to use."
Fox News Digital has reached out to the governor's office.